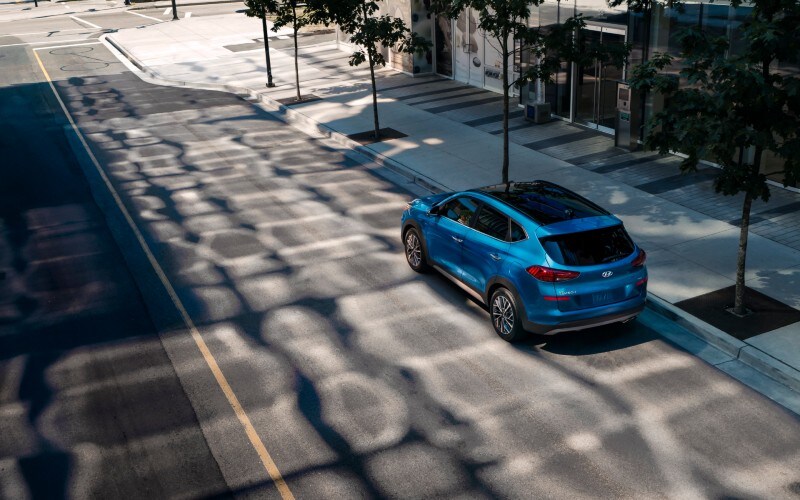 Hyundai Tucson Tech/Highlights Blog | Healey Hyundai
When it comes to mid-size SUVs you won't get a much better performer than the Hyundai Tuscon. Thanks to its aerodynamic design as well as its engine efficiency, the Tuscon is built to last a long time. Additionally, the Tuscon also has technology features and functions that have been upgraded for the 2021 model that puts it at an even higher rank in its class. From new sensors for safety control to interior tech functions that make for a more versatile and comfortable experience, the Hyundai Tuscon is one of the most technologically advanced SUVs currently out on the market. In this article, we'll go over some of those tech specs. 
1. Hyundai SmartSense
Hyundai is known for having one of the best safety and technology integration of any vehicle on the road in 2020. This is possible thanks to its reliance on SmartSense technology. 
There are seven main components of SmartSense technology that are available in the Hyundai Tuscon at different trim levels. They include: 
Forward Collision-Avoidance with Pedestrian Detection
Emergency braking and pedestrian or forward vehicle collision sensors prevent drivers from making head-on collisions. 
Smart Cruise Control With Stop and Go
Smart Cruise Control allows drivers to maintain a safe distance from vehicles in front of them. 
Driver Attention Warning
A cue sound can alert drowsy drivers to pay attention to the road. 
Lane Keeping Assist
Corrective steering assistance is applied if the driver begins to drift out of the lane. 
High Beam Assist
An automatic high beam toggle allows you to save time and power by adjusting high and low beams for you. 
Blind Spot Collision Warning
A visual alert warns drivers that another vehicle is approaching in the blind spot. An audio alarm sounds when a lane attempt is made when another vehicle is close by. 
Rear Traffic Collision Warning
Rear traffic sensors allow drivers to back out more safely and avoid collision with moving vehicles and other objects like moving pedestrians. 
2. BlueLink Connected Car System
BlueLink gives drivers greater control through multiple levels including connected control, remote, and guidance functionalities. Whether you are driving in inclement weather like snowstorms or more rugged terrain, you can rest assured that you will continue to get status reports based on your vehicle's current condition. Connected control serves to provide vehicle service reminders, diagnostic reports, and health reports. The Remote Start feature from BlueLink allows you to control your vehicle locking functions from a smartphone application. Additional Guidance packages through BlueLink is also optional for drivers that are new to town and need mapping help from GPS functions connected into the car view BlueLink. Voice navigations and buttons are also possible through the BlueLink functions. BlueLink also has anti-theft devices and stolen vehicle recovery functions through the app that can help you locate your vehicle and aids in contacting the proper authorities to help you get your vehicle back. 
3. Touchscreen Display Functionalities
A 7-inch touchscreen display allows you both touch and voice control over the audio and climate cooling systems in your vehicle. The touchscreen also serves as an infotainment system where music control can be facilitated through the use of a smartphone. Additionally, the Hyundai Tuscon also has 4G/LTE capabilities and also has a WiFi hotspot that can be activated from the touchscreen infotainment system. The infotainment system also gives drivers access to Bluetooth connectivity so you can listen to music from your own personal device as you drive. 
4. Infinity Audio Technology
What was once a company that primarily manufactured loudspeakers, Infinity now manufactures and engineers car speakers, subwoofers, and amplifiers. As a result of this, it has become one of the leading audio manufacturers for vehicles looking for that additional boost in high-quality audio sound. With the addition of Infinity audio capabilities in the Hyundai Tuscon "Sport" trim level, drivers can turn their vehicles into a moveable concert thanks to high-quality speakers, subwoofers, and amplifiers. Infinity Harman Logic speakers add depth, width, and ambiance to the interior of the vehicle so drivers and passengers and completely enveloped by the atmosphere. 
When it comes to looking at tech highlights of vehicles, the Hyundai Tuscon has it in spades. From SmartSense features and BlueLink connectivity to Infinity audio technology, this vehicle has it all. If you are more curious and want to try out a test drive, don't hesitate to contact us at 877-736-9027 today. 
Hours
Monday

10:00 AM to 7:00 PM

Tuesday

10:00 AM to 7:00 PM

Wednesday

10:00 AM to 7:00 PM

Thursday

10:00 AM to 7:00 PM

Friday

10:00 AM to 6:00 PM

Saturday

9:00 AM to 5:00 PM

Sunday

Closed